Last night, it was Earth Hour. It started at 8:30 pm and ended an hour after. An hour before that, we gathered candles and some flashlights in anticipation of this moment. When 8:30 pm struck, we turned off all lights in the house.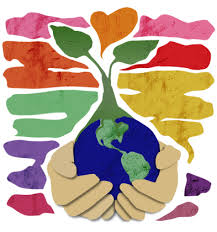 To my disappointment, not all the houses in our block participated in Earth Hour. I wanted to ring on their doorbells and remind them about their obligation to Mother Earth. It's only for an hour, out of the 24 hours per day and 365 days in a year. I do not understand why they cannot seem to participate in this movement. Are they not aware that their indifference towards this noble cause could benefit them in the future?
This is not being passionately blind about a cause. This concerns every living creature on earth. How can anyone be unsympathetic and unconcerned towards this honourable cause?
My passion towards Mother Earth began when I watched a documentary film about the extent of the damage we have caused due to our negligence in taking care of the earth. It showcased the disturbing things happening and the destruction caused by global warming and what will happen if we do not act now.
I admit the documentary scared me out of my complacency. I have a tendency to be passive towards my surroundings before. I live like the earth will never end and I will never grow old. I am not a scientist nor would I pretend to be very knowledgeable of these things, but I believe in what I saw. And it is really scary. From then on, in my own little way, I took part in anything that involves saving our planet.
After watching that documentary, I have grown to have more appreciation towards nature. Every time I am on a plane and if by chance I get a window seat, I am always in awe and captivated with the beauty of nature. I am always thankful for the privilege to see such wonder.
Earth hour started in Sydney, Australia on March 31, 2007 with some 2.2 million houses and business establishments turning off their lights at 7:30 pm, to make a stand on climate change. Back in 2004, WWF Australia collaborated with Leo Burnett Sydney, an advertising agency, to discuss about climate change. Their first project was named The Big Flick where there would be a large scale switch off. It was then presented to Fairfax Media and to Lord Mayor Clover Moore who supported them on this project. In 2007, Earth Hour was held in Sydney, Australia at 7:30pm.
Cities and countries participating in Earth Hour grew in number since then. Yearly, more and more countries are getting involved in Earth Hour. On its 4th year, this has reached across continents with hundreds of millions of people pledging support for this cause. This is a call for people to take part and remind them of their responsibility towards their environment.
I salute the people who started this movement. Among all the movements initiated globally, I believe this to be the best of all. To those who took part and will take part in the Earth Hour on March 29, 2014, at 8:30 pm to 9:30 pm, I applaud you. The little things we do to save mother earth are going to rub off on other people hoping they too will become active participants. Being an active participant of this movement means we should walk the talk in our daily life.
Share and Enjoy