According to Wikipedia, "the 457 visa is the most commonly used program for Australian or overseas employers to sponsor skilled overseas workers to work in Australia temporarily. The full title of this subclass of visa was Temporary Business (Long Stay) and was introduced soon after John Howard came to office in 1996. The title of the visa was changed to Temporary Work (Skilled) (Subclass 457) visa on 24 November 2012. Applications are processed by the Department of Immigration and Border Protection (DIAC)."
The 457 visa is the most popular visa in Australia. It is a stepping point to acquiring a Permanent Residence Visa.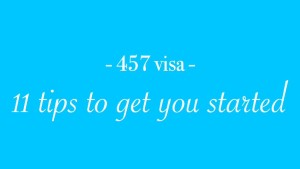 Helpful Tips about the 457 Visa. 
Visa application can be done by yourself, or your company can do it for you.
A migration agent can also help you.
Renewable after 4 years, OR
After 4 years you can apply for Permanent Residence (PR) Visa.
Only a limited number of employees can be sponsored by employers.
Dependents of 457 Visa holders – their immediate families – can work and study in Australia during the duration of the visa.
You should acquire your own private health insurance.
Holders of passports from UK, USA, Ireland, Canada or New Zealand are exempted from taking the English Test to check English proficiency. There are, however, no more exemptions for certain occupations. Everyone – other than holder of passports from the previously mentioned countries – are required to prove their English proficiency through a test. A classic example is the IELTS test.
If you have 5 continuous years secondary schooling or higher in English – you can also be exempted from the English proficiency test.
The employer needs to state your guaranteed annual salary during the nomination application of your 457 visa. He is likewise required to provide evidence of the ongoing Australian market rate for the position you will occupy. This is to ensure that you will not be underpaid. Foreign workers are not hired because their salaries are lower than Australians'.
If your documents are not in English, you should get a NAATI certified translation.
Share and Enjoy